Find Me Follow Me:
This will show you step by step how to create a Find-Me list and assign a series of phone numbers.
You should also review the FAQ on the "Find-Me" Overview for additional background and detail.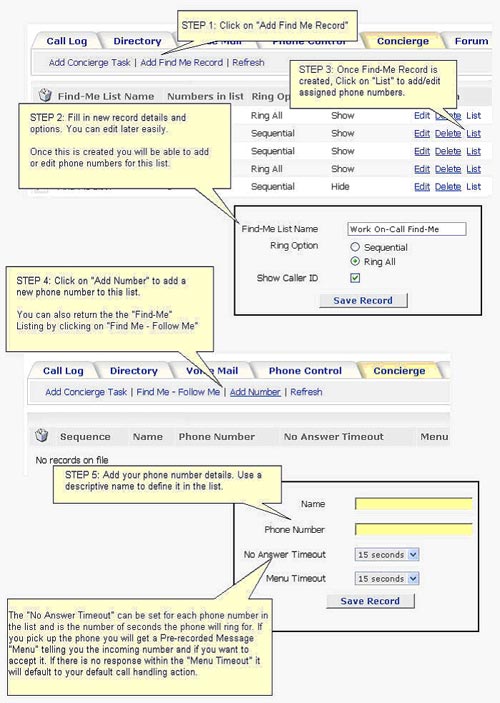 This image provides you an overview of the Find-Me Functionality. This feature is used to setup a list of numbers that will be can be assigned to a concierge action. The list of numbers can then be called all at once (simultaneously) or in sequence.
This allows you to have a series of phone numbers activated when your TalkBroadband phone number is called. This is a very useful feature to quickly locate you - hence the name "Find-Me" feature. It will simulataneously call a series of phone numbers that you may be near and quickly allow you to be reached but still use your TalkBroadband number.
Once the other phones ring, you will be prompted with a recording telling you the number of the caller and if you want to accept or ignore the call.
Once the "Find-Me" list is added, it will appear as an option when adding or editing your concierge records. If you have several "Find-Me" lists created they will all show so it's better if you have a descriptive name for each.
** UPDATE ** The only way this will work, is the lines search for the users, then after the last number it goes back up to the first, then if that fails, will then go to VM if available.
*** NOTE *** Each lines should not have VM enabled. It will break the search if VM interrupts. Or you can have the number of rings it will do before forwarding to bypass it.